Why Am I Posting This Now?
Every tube is a person

This week Panorama aired an episode about how testing is undertaken in some community testing laboratories. They didn't really cover the differences in testing between hospital and community testing streams.and I'm concerned, as others are, that this programme will create the impression that all testing is done in the way it was portrayed in this episode.

BBC iPlayer – Panorama – Undercover: Inside the Covid Testing Lab
Mention is made in passing to the high quality NHS system that existed prior to the COVID-19 pandemic and is still providing world class care. It doesn't go into the difference between the 2 parallel lab systems in any way that would be clear to the audience, or reassuring to those not being treated by the so called 'mega labs'. They also only really refer to academics vs the recent science graduates running laboratories. No mention is made of the army of highly trained, highly qualified Healthcare Scientists who have spent years providing high quality, rapid, advanced testing who have been the backbone of scientific testing in healthcare for decades. No Healthcare Scientists were even featured to comment on the practice.This is such an upsetting oversight that it I felt like I needed to put something out there in order to raise awareness of how all of this works in practice.
This hidden profession deserves to be seen and recognised for the amazing work they do, and not conflated with the bad practice seen in this programme
Before I go any further, I need to be clear that this post isn't talking about point of care testing (POCT) i.e. the lateral flow testing which I am going to cover in another post; nor is it looking at the technical aspects such as how PCR works as I've already covered this in another post. This post is about the different testing streams and why the service and quality they offer may not be the same in all circumstances. This is clearly only my view of the situation and others may see it differently.
How Did We Get Here and How Does the Testing System Work?
When the pandemic started, the government released a document called Coronavirus (COVID-19): scaling up our testing programmes. This document was last updated in April 2020, basically setting out how we were going to enable the country to go from testing a few hundred virus samples a day in each local hospital for patient management to 700,000 plus swabs per day: from both hospitals and the community for: patient management (pillar 1) and epidemiology and surveillance (pillar 2).
The decision was made not to scale up the local hospital and public health networks that already existed (pillar 1), but to bring on line a second parallel system for community testing which would be called pillar 2.
Tests in the UK are carried out through a number of different routes:
pillar 1: swab testing in Public Health England (PHE) labs and NHS hospitals for those with a clinical need, and health and care workers.
pillar 2: swab testing for the wider population, as set out in government guidance.
pillar 3: serology testing to show if people have antibodies from having had COVID-19.
pillar 4: blood and swab testing for national surveillance supported by PHE, the Office for National Statistics (ONS), and research, academic, and scientific partners to learn more about the prevalence and spread of the virus and for other testing research purposes, such as the accuracy and ease of use of home testing.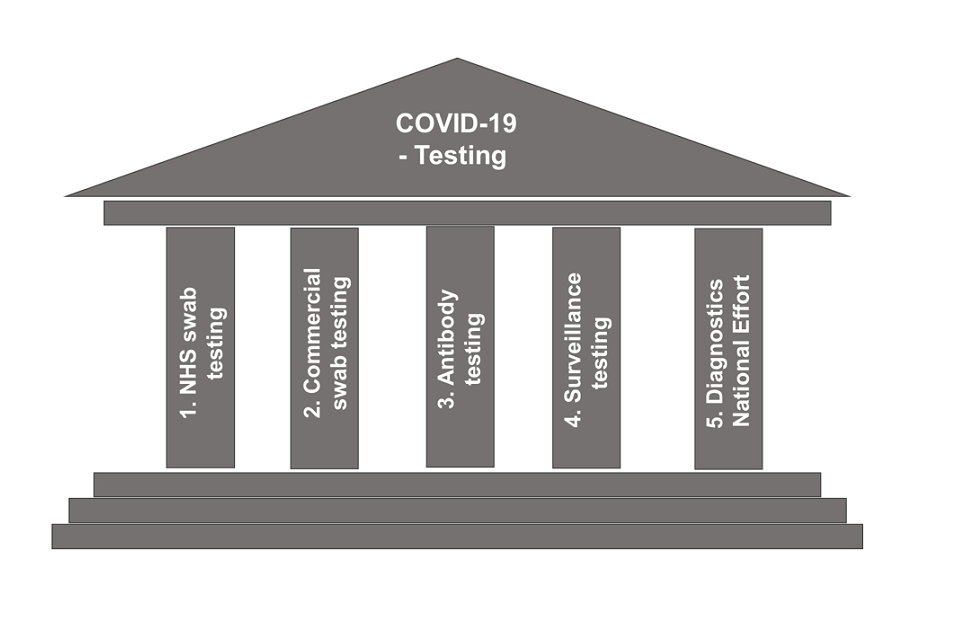 The decision to scale up using multiple pillars was made to improve capacity and was supposed to be designed with the following in mind:
Accuracy and reliability of tests.
Getting the right supply of people, lab space, equipment and chemicals.
Logistics.
What Points Did the Panorama Programme Make?
The Panorama programme asked the question, 'Can we trust testing to keep people safe'. As mentioned , it focussed on pillar 2 testing in one of the 'mega labs', a not for profit lab in Milton Keynes set up to process 70,000 samples a day. The 7 lighthouse labs should between them be able to process 700,000 tests a day. To put this in context my lab in pillar 1 processes up to 600 SARS CoV2 tests a day at maximum capacity, but it is a comparatively small lab. I know other centres are running 10,000 tests, but still the numbers are smaller: mostly due to the context in which we are running, i.e. patient management and staff testing.
The woman who investigated worked 18 shifts over the course of the programme and was a life science graduate given 4 and 1/2 days of training before she started on the job (bear this in mind when we talk staffing and training later).
The programme showed a large number of quality and technical issues (I needed a glass of gin afterwards), such as failing to check sample details so samples needed to be discarded, safety failings in the way they were using hoods and dealing with leaking samples and substantial issues with quality controlling results prior to release. This last point meant that the reliability of the result given could be questioned, with a number of potentially false positives being sent out.
Many of these issues are linked to what we call quality assurance, so here's the CDC definition:
Laboratory Quality Assurance (QA) encompasses a range of activities that enable laboratories to achieve and maintain high levels of accuracy and proficiency despite changes in test methods and the volume of specimens tested. A good QA system does these four things:
establishes standard operating procedures (SOPs) for each step of the laboratory testing process, ranging from specimen handling to instrument performance validation.
defines administrative requirements, such as mandatory recordkeeping, data evaluation, and internal audits to monitor adherence to SOPs.
specifies corrective actions, documentation, and the persons responsible for carrying out corrective actions when problems are identified.
sustains high-quality employee performance.
In summary, it's how we feel sure that the result we give you is the right one, is accurate, and is given within an acceptable time frame that means it is useful to you.
The issues shown were mostly therefore linked with the pillar 2 lab failing at being able to undertake the quality assurance that meant that you got the right result on the right person at the right time. This links back to the stated aims in the government document linked to the need for 'Accuracy and reliability of tests'. So why did this happen and why is this quality assurance different in pillar 1 testing?
Why are There Differences Between the Labs in Pillar 1 Testing and the Labs in Pillar 2?
It is worth stating here that (my understanding) the aims of pillar 1 and pillar 2 testing are different. I am in no way excusing the poor practice as discussed in the episode but it is worth remembering that. Pillar 1 testing requires highly accurate repeatable results on an individual level as we are using it to monitor and make clinical decisions such as treatment options for the individual. The level of accuracy and repeatability required is therefore extremely high. Pillar 2 testing feels, to me, to have different aims. Although individual results are processed through the community system, in many ways it feels like it is there to get national and regional data to inform policy decision making on a large scale, such as containment choices. This is much more of an epidemiological approach where individual results matter less, as the data input into the system reaches hundreds of thousands. The focus on each tube being a patient therefore feels like it gets lost.
Staffing and Training
Pillar 1 testing is run and managed by Healthcare Scientists. To become a Healthcare Scientist requires at least degree level qualification and most of my staff have masters degrees. Healthcare Scientists in laboratories also need to be registered in a similar way to nurses and doctors on a professional register where their fitness to practice is monitored. This register is called the Health and Care Professionals Council (HCPC) register and you can either be on it as a Biomedical Scientist or a Clinical Scientist, depending on how much clinical advice you give, but both groups are Healthcare Scientists. Registration take a minimum of a year post degree (and for some routes 6 years plus) with completion of training competencies. Then as part of this professional registration you have to maintain your training, but also fulfil scientific and professional standards. This would mean that some of the things seen in the programme could result in professional sanction and possibly loss of license to practice.
Pillar 2 testing was initially mainly run by academics who were able to be seconded over or volunteer due to university closures. As a Clinical Academic I live in both worlds and my academic colleagues are amazing. However, they are used to working in very different environments without the same standardization and quality assurance checks that are utilised in a clinical laboratories. Most of these highly-skilled academics have now returned to working at their universities as courses have re-opened and so it appears much less experienced graduates have taken their place. This means that despite best intentions and good will they are unlikely to have the experience and training required to fulfil the complex and high standards of laboratory practice required in clinical settings.
This is why the 'getting the right supply of people' piece in the document is so key. Healthcare Scientists like medical staff, however, require years of training prior to independent practice and so I acknowledge that within the timescales we have faced this has been a challenge and is a strategic issue that needs addressing in the years to come.
Quality Monitoring
In theory there should be no difference in the quality monitoring or quality assurance between pillar 1 and pillar 2 testing. It was stated in the documentary that the lab featured has been recommended for accreditation, but what does this mean?
Within England labs are assessed against a set of standards known as ISO 15189 Medical laboratories. These standards set out a list of requirements for quality and competence and were developed by the International Organisation for Standardization's Technical Committee. If a lab demonstrates they meet these standards they are known as accredited labs, meaning that they are able to provide high quality accurate results. The accreditation body is called UKAS and it works in a similar way to the CQC for hospitals and OFSTED for schools.
All pillar 1 clinical laboratories are required to have UKAS accreditation to run. The process of getting accreditation is highly time-consuming, requires specialist knowledge, and a LOT of paperwork. Most labs have at least one full-time quality lead in order to keep on top of it, and to undertake crucial monitoring like auditing to provide the assurance part of quality assurance.
To set up the monitoring systems and get accreditation, even for one test, is not fast and it seemed to me that this is where the lab featured was failing. It is almost impossible to do high quality work when it is undertaken in a factory setting with hourly targets and when the staff present aren't trained to a high enough level (4 and 1/2 days). Obviously, this is just a view from a set of data given through the lens of a specific piece of reporting. Having been through the accreditation process numerous times myself, it is of no surprise to me that centres set up so quickly with limited staff training are struggling to comply or even to truly understand the issues.
So Where Does that Leave Us?
Firstly I want to clearly state that this post is not an attack on the people working in the mega labs, they are doing their best under tremendous strain with what they have available.It isn't even an attack on the mega labs themselves as I understand how we have gotten to where we are with them. This is a post to explain what we already had in place and how we might in the immediate and longer term look to do things differently.
These labs have been created at pace and utilising what resource could be sourced to set up a completely separate stream. In many ways I understand this, as just the logistics of getting 70,000 specimens a day into a building in terms of vehicle access are huge. Healthcare Scientists also cannot be magicked out of thin air. The problem is that this is being treated as a factory, without (it feels) acknowledging that the work we do is highly-skilled and technical: that this needs to be acknowledged in order to achieve high quality outputs.
As stated in the programme:
'If we'd spent the money supporting the existing system we would have been better off'
That may not have been possible for reasons of speed and logistics at the start, but it is certainly possible now. The answer to the question in the programme 'Can we trust testing to keep people safe?' is yes, but maybe not in the situation we're in right now. So let's acknowledge the workforce that have the expertise in this, who can deliver the quality required and build the infrastructure to ensure that no matter where you are tested, for whatever reason a sample is taken, you are acknowledged as the patient behind the tube!
As to whether you should care about testing and where your sample is processed. We should all care: results and quality should not depend upon testing site. We should also care about the plans for how this is done in the future, as this will be a key legacy that the pandemic leaves behind.
All opinions in this blog are my own.